Microsoft Surface Pro Repairs by Professional Technicians
Posted by Matt McCormick on February 28, 2022
Being located close to the Microsoft campuses, it makes sense that Jet City Device Repair has become a leader in Surface Pro Repairs.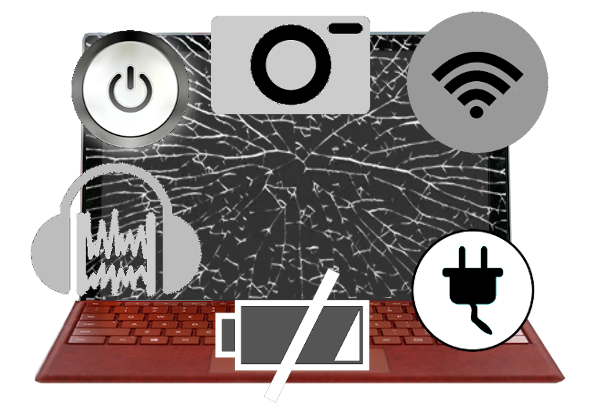 We fixed our first Surface Pro in June, 2016 for the Issaquah School District. Since then, we've fixed over 400 of these laptops for schools, businesses, and individuals. We fix them in our stores and through the mail.
What We Fix
We can fix almost anything that's wrong with your Surface Pro. Here's just a few of the more common repairs.
Cracked Screen Repair
Battery Replacement
Charge & Power Port Repair
Headphone Jack Repair
Don't see what you're looking for? Check out all our Surface Pro Repairs or just give us a shout, and we'd be happy to help.
How Long Does It Take
This depends on whether you live near one of our repair stores or have to mail it to us. Either way, the process starts by contacting us to let us know what Surface Pro model you have and what's wrong with it. We stock many Surface Pro parts but not all of them. So if we don't have the part, we'll have to custom order it before we can do the repair. Don't fret, these custom orders usually land within a 2-3 days.
Once we have the part and your device, the actual repair usually takes about 1-2 hours. That means if you're local you can schedule a time to drop it off or grab some lunch or coffee while we fix it. If you need to mail it to us, we usually get it fixed within 24-48 hours of receiving it and then mail it back out. See our mail-in repair FAQ for more details.
How do I get started?
Easy: Just contact us. You can call, email, or even send us a text message. Alternatively, you can find your Surface Pro model on our website and go through there. For example, if you have a Surface Pro 7 with a cracked screen, you can go to our search bar at the top and start typing, "Surface Pro" and select the right model. Then click on the screen repair option in the list of repairs and go from there.